Teej


Happy Haritalika Teej to all Nepali mothers and sisters living home and aboard !
Teej is women festival in Nepal, On the occasion, Hindu women observe rigid fast all day and worship Lord Shiva wishing for the longevity of their husbands, while unmarried women pray to the deity for an ideal groom. Women clad in red saris, bangles, henna and ornaments throng Shiva temples, especially Pashupatinath temple in Kathmandu, to offer prayers.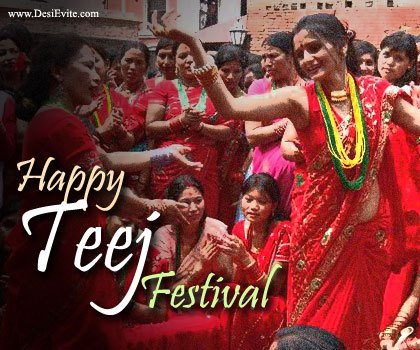 Teej falls on the third day of Shukla Paksha (bright fortnight) in the month of Bhadra. Women celebrate the festival by fasting, singing, dancing and offering prayers to Lord Shiva. The festival also marks the union of Shiva and Parbati.
The festival is a three-day-long celebration, which combines gatherings' singing' dancing, eating dar and rigid fasting.
The first day of Teej is called dar khane din. On this day, women eat delicious and heavy food items before midnight.
The second day is the fasting day or the main day of Teej. Women spend the day without a morsel of food and some even a drop of water.
The third day of the festival is Rishi Panchami. Women pay homage to seven saints or sages and offer prayers to various deities and bathe with red mud found on the roots of the sacred datiwan twig, along with its leaves. This act of purification is the final ritual of Teej.